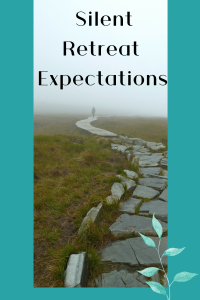 At the end of this week,  I attend my annual silent retreat.
I'm tired.
I'm empty.
I'm lost.
All ingredients for being ready for a time to be with God, listening, walking, and bathing in his love.
"A spiritual retreat is medicine for soul starvation. Through silence, solitary practice, and simple living, we begin to fill the empty reservoir. This lifts the veils, dissolves the masks, and creates space within for the feelings of forgiveness, compassion, and loving kindness that are so often blocked." David A. Cooper
Last year's community silent retreat was canceled due to the pandemic. I did take a few days in August to stay by myself in a hermitage and walk with God on the retreat grounds. Nice, but interesting enough, I missed being with community in silence.
I have written in the past about the value of this spiritual practice and encourage you if you are interested or even hesitate, to take the time to read and pray about going on retreat.
Silent Retreat Expectations
When I spend time with God at a retreat, I try to come holding an agenda lightly. I am a planner and love to know the details of every moment to try to control the interactions. See? I like to play God, instead of playing with God, who is really in charge.
In the weeks before a silent retreat, I do gather my thoughts, hopes, concerns in my journal and write out my intentions for this time with God.
Finding the words to express what you are seeking while on retreat is helpful to add clarity and motivation for paying attention. I often put my desires in the form of a written prayer in my journal before I go. Then I give it up to God as a possibility, something I would like, but tell him he is in charge. My head and heart are now opened to receive whatever God wants me to have and to hold.
Other intentions to consider may be discerning a next step, seeking affirmation of where you are presently, enjoying time with God in deep conversations with him and just being with God. Your intention can be as general or as specific as you want.
I try to hear God before the retreat begins – sometimes his voice is clear, but often it isn't. I ask myself what it is I am seeking? Lord, how do you want me to pray in our time together? Where do I feel God is inviting me? What do I most need currently? I write this out in my journal. I pray about what I think is his direction. Then I let my urge to control go.
With open hands, I surrender my intention and expectations to God. I hold them lightly with palms upward. My breath prayer is "open and willing, Lord."
This year I am seeking wisdom in discerning key roles in my life for the next couple of years. I may not get all the answers, but I trust God will show me arrows, the next step in my journey.
I anticipate that my spirit will be refreshed and renewed. I will probably nap for physically and spiritual rest. My well will be deepened and filled by talking with my spiritual director, walking with my "lamplighters" (ancient writers I am resonating with who are teaching me and lighting my path right now), and getting quiet enough to hear God and my own heart's voice.  
I guess I am full of expectations. Time to empty them out into God's hands and wait with anticipation for what he has planned for me. Often God surprises are the best.
Several years ago, I wrote a small book about this practice – Spiritual Retreats – A Guide to Slowing Down to be with God that is still available on Amazon.
This practice means so much to me I made a gift for you. I created a special free handout for you – Pausing to Prepare – 5 W's of Preplanning for a Silent Retreat – available at no cost by just clicking the button below.
Prayer for my time away is appreciated. I leave Friday and return the following Friday. I have next week's blog post already written and pre-posted so you will hear from me but not "live."  HA!  And please consider taking a retreat as a spiritual practice, even a half or one day one for the purpose of getting away with God. God will tenderly nurture the spirit!
Now that covid restrictions are relaxing, do you have a retreat scheduled?