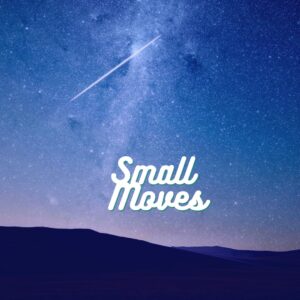 "Small moves, Ellie" is a line spoken near the beginning and repeated towards the end of the movie, Contact. I attended a retreat quite a while back where the speaker shared clips from this movie and then we discussed the spiritual implications. I have love Contact ever since then, watching it frequently.
"Small moves, Ellie," advises the father of the main character as a child, Ellie Arroway, who is a young ham radio operator.  Her father is coaching her at her radio not to turn the dial too quickly and to move a radio dial very slowly in order to hear the frequencies in-between. He tells her "Small moves, Ellie, small moves."
"Small moves" is also a pivotal movement in Ellie's transformation as an adult when she experiences an encounter with a person from another planet (looking like her father so she is not afraid).  When she is full of confusion, questions, and uncertainty about what happens next, he says with tender love once again, "Small moves, Ellie."
If you are reading this post from the email, you may need to go to the blog post to see this movie scene.
"Small moves" guides me through moments of confusion, questions, and uncertainty too.
When I am overwhelmed.
When fog shrouds the road ahead.  
When doubts beat me down and I feel alone. 
The words become a reassuring breath prayer in times of fear and chaos.
"Small moves" reminds me to take one step at a time. To trust God in leading me. To breath more calmly, knowing more deeply, all will be well with God's love besides and within me. To slow down enough to hear God's quiet voice and to savor his tender love.
"Small moves, Ellie, Jeanie," God whispers.
When have you experienced God's guidance and love in small moves?