December's Spiritual Practice – This Week: Reflection: Weekly/Quarterly Tips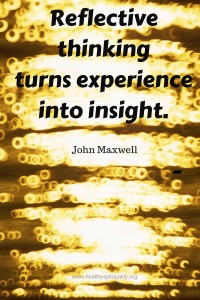 In December, we are looking at the spiritual practice of reflection and today will look at how to build reflection into your weekly and quarterly time frames.
Remember the spiritual practice of reflection gives meaning to our lives, helps us see God's presence in the details, grounds us with landmarks on our journey and enables us to let go of what holds us back in life. It's like hitting the pause button at regular intervals.
You can review the overview of this practice and see how I practice reflection on a monthly and daily basis on the last two Thursdays' Tending the Holy post.
Spiritual Practice of Reflection -Weekly Ideas
When I was working full time, one practice I had was to write in my journal most Sunday afternoons. I ended up missing some weeks, but to be honest, I wrote more regularly then than I do now. Having a weekly routine made all the difference. Find a weekly rhythm for any or all spiritual practices you feel invited to.
Another weekly tip is keeping a pen or pencil nearby during worship service. No, silly, not to make my grocery list or to-do list during the sermon – though that is a tempting idea. Often I jot notes down to journal later or something to pray about. Maybe a blog post idea to develop.
Worship – I read this year the majority of people think "regular" attendance at worship is once a month. That surprises and even disappoints me. When did God become less of a priority in our lives? In my heart, I worship daily, moment by moment and intentionally gather in a community weekly.
I love reading and wish I delved into this joy on a daily basis, but to be honest, it is more like a weekly practice. How often do you stop everything, just to read?
Spiritual Practice of Reflection – Quarterly
Harvest my journal. About once every quarter I block off some time to reread my journal. I highlight sections that continue to resonate in my heart or words I want to pray and ponder more. This process resets my focus, recalibrates my heart and retunes my hearing for God's voice. I find reviewing my journal quarterly and yearly one the most effective and powerful nourishments for my spiritual growth.
I also review my goals quarterly – all of them – physical, ministry-related, relational and spiritual. This keeps me on track. Sometimes it discourages me too if I haven't made much progress. But I am learning to take a deep breath and decide what would be one simple next step to do, then start. Some of my goals – like living a healthier lifestyle or honoring God with wise use of my time – won't be fully achieved in this human lifetime. I am gentle with myself yet recommit each quarter.
Last week I shared my nightly review of each day called the Examen of Conscious. I also apply this practice quarterly, which gives me a wider point of view. How am I experiencing God these past three months? Am I using God's gift of time wisely? What am I most grateful for this quarter? Like the goal review, this practice often refreshes my spiritual walk and centers me back on God.
If you are new to Healthy Spirituality, I invite you to sign up in the sidebar to get these twice a week posts by email. I promise not to spam your inbox. And as always I appreciate you sharing these posts with your friends by social media. You guys are the best!  
I am curious how do you reflect on a weekly and quarterly basis?