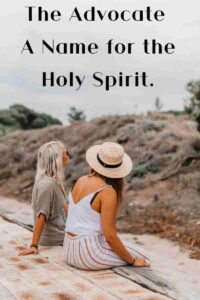 Advocate is the name for the Holy Spirit mentioned in the gospel of John, the reading a few weeks ago in my church.
"And I will ask the Father, and he will give you another Advocate, to be with you forever.' John 14: 16
At first this word seems cold, harsh ,and maybe even distant until I dug into its true meaning.
John's gospel calls the Spirit the parakletos or Advocate, a term for someone who is called to one's side as a source of help. In modern contexts someone may serve as an advocate in the court system, in the health care network, or in an educational institution, while other advocates may press the legislature to act on behalf of a certain cause.
The word parakletos is difficult to translate properly because it has a range of meanings in the Greek, all of which are meant by John. English translations variously translate it Comforter, Advocate, Counselor, and Helper.
But I have a favorite translation. Here is a story I heard from a pastor:
"A friend shared her experience of being at her synod's Bishop's Convocation. A time for sharing and learning with pastoral colleagues. A time for support and encouragement. But for my friend, too many times when she was asked to tell her story. And no one should expect you to tell your story if you are not ready. She was still grieving a heavy loss.
She cried a lot. She thought about going home. After one of the sessions, she went outside to sit on a bench. A woman whom she didn't really know came over to her and asked, "Is there anything I can do for you?"
My friend responded, "Just sit with me." And the fellow pastor did. No words. No touching. Just sitting."
"Just sit with me" is the very essence of the Holy Spirit as Advocate. Our guide. Our companion. The one to whom we can say, "Just sit with me."
To me advocate means—the one who comes alongside you. Doesn't abandon us. Will not leave us orphaned. Will be present as the presence.
We too can be advocates, being present for one another. No advice. No fixing. No cliché answers. Just sitting, being, coming along side one another.
I want to live this way and be this way for others.  How about you?