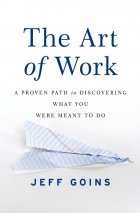 Last week I wrote about the connection, the two sides of the same coin, of wishing and working. Part of my thinking more about this topic arose from reading Jeff Goins' new book, The Art of Work – a Proven Path to Discovering What You were Meant to Do.
This is a book I have enjoyed slowly reading, picking different chapters, gaining new insights and leaving more encouraged and inspired. Jeff's words stir inside of me a courage to state my dreams and take the risk to go after them. This is a book about discovering your life's work and the task you were born to do.
The Art of Work is packed with personal stories, case studies and current research on the topics of what motivates us and if talent is that all important. Each page will lift your spirit and make you think more about your life's vocation, not just making it to the next pay check or to when you finally retire, but to do what you really want to do.
"The process of finding and claiming your calling is a journey, one that requires you to leave what you know in search of what you don't know. Yes, there's mystery to it, but the way you go about it is by putting one foot in front of the other."
The Art of Work would be a great book to read with a small group and discuss. Even just talking about the title would be an engaging conversation. A masterpiece isn't completed right away and often the artist attempts something and has to begin again. Art may begin with talent or a ability, then built upon skills and experience, but often is driven more by vision and dreams. What is the art of your life's work?
This book reminded me that my life is a story and stepping back and reflecting on the where I am going is a healthy action to take. What are the chapter summaries being written about my life and what do I want the future chapters to say?
Life is a process. We find opportunities to try things and often to fail – but can learn more from those failures than the successes. Our journey is hard, confusing, difficult at times. We practice, showing up each day, listening to God's calling in our lives. We acknowledge seasons – there are times we keep one job while taking vacation days to explore our "someday" wild dreams.
I am goal oriented but as I progress in life, I am finding the end, the destination, the final reaching "success" isn't where joy and contentment are found – it is in the journey. I don't want to grow old just holding regrets in my heart.
God planted a compass inside of us pointing back to him and as that arrow spins, changes directions and corrects itself, we learn what we are called to do. What an adventure!
Is there an Art to Work? What do you think?
I received this book free in exchange for a review and am not required to give it a good report.