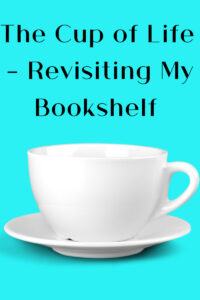 The Cup of Our Life is a wonderful image to hold, ponder and be a conduit to lessons from God. I hunted for this book by Joyce Rupp the other day, wanting to drink again from its wisdom.  I smiled at all the sticky notes, underlining and tattered edges of this loved book. Words once again inviting me to reread. What would stand out to me this time?
I have been revisiting my bookshelf this summer and decided to make this a series in the month of August. Each week I will rediscover an old friend, reread its wisdom and share a title, its theme, a few quotes, and a small reflection/application.
The Cup of Our Life
Joyce Rupp is one of my favorite authors. Most of her books sit on my shelf so it didn't surprise me that at least one of them jumped into my pile to reread.
Joyce reminds us that a cup is a powerful teacher and metaphor for spiritual growth. She writes, "I have learned that my life holds stale things that need to be discarded and that sometimes my life feel as wounded as a broken cup. Notice the rim of the cup, with no beginning or end a symbol of wholeness."
This book can be used alone for a journal or retreat guide or with a group. I used its premise and format for a retreat I led for a church group. It is divided into weeks titled: The Cup of Life, The Open Cup, the Chipped Cup, the Broken Cup, the Cup of Compassion, and the Blessing Cup.
The week that called to me when I revisited this treasure was the Open Cup with its topics called the Cluttered Cup, Space for Listening, The Empty Cup, Readiness to Receive, Trusting, and Solitude.  Each topic holds a short reflection, breath prayers, a guided reflection, Bible verse, journaling prompt and a prayer. See how rich this book is!!
"Generous God
I come to you again
Holding out my waiting cup
Begging that it first be emptied
Of all that blocks the way
Then asking for its filling
with love that tastes like you."
The well-worn and loved book now sits in my prayer place, ready to be reread again each morning. Thank you Joyce Rupp for all your teachings.
How does the image of the Cup of Life move you? Take a cup, empty or full, stained or chipped, and listen to what God is teaching you.