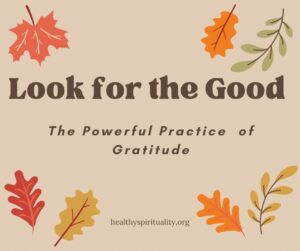 Gratitude is one of the most powerful spiritual practices we can do. The longer I venture on this spiritual journey called life the more I am in awe of how being thankful radically changes not only how we see life but also adds to its depth, richness, and joys. One of this blog's main focuses is focus on spiritual disciplines that turn our hearts to God and gratitude is certainly a great example of this type of practice.
This time of year naturally turns our hearts towards gratitude yet we have to also be intentionally in its practice. I find the stress of the world, other's expectations, and internal conflicts consume my positivity, yet when I pause, pay attention to my blessings and thank God for all his gifts, my spirit lifts.
"Gratitude is like a flashlight. If you go out into your yard at night and turn on a flashlight, you suddenly can see what's there. It was always there, but you couldn't see it in the dark." Dawn Markova
My experience with intentionally practicing gratitude has been transformational. This spiritual discipline helps me focus on what I have – not the vapor wishes I think I need.
Being thankful helps me step out of the way, thanking God for all things, not relying on my own self-centered strength.
Gratitude has taught me the fun in discovering hidden blessings, treasures I may have missed if I hadn't been paying attention. Look for the good.
Counting my blessings turns what my emotions blindly convey as a rotten day into "hey that wasn't so bad after all" type of reflection.
Thankfulness adds meaning to life, even in difficult times.
We begin with paying attention to the blessings we have been given. We thank God for his gifts, flowing abundantly into our hearts. Then out of that precious overflow, we bless others.
God's grace gathered inward.
God's goodness given outward.
Jean Wise
Living a life of gratitude helps us find the positive side of life and reminds us what is really important. Seeing the world through the lens of thankfulness gives our lives more meaning, more appreciation, and more joy. Gratitude balances life by counteracting all the negatives the world throws at our souls.
"When it comes to life the critical thing is whether you take things for granted or take them with gratitude."
G. K. Chesterton
How will you practice gratitude this month?  What are you most grateful for right now?