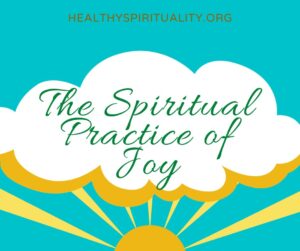 Joy doesn't come easy for me. I tend to be a focused, serious, get it done gal and am envious of others whose smiles light up a room and whose presence brings delight.
When I do my year-end review and assess my various life arenas – physical, mental, spiritual, relationships, work, etc., the section titled fun, joy, or brightness of life often rates the lowest.
I remember walking ahead of my mother and her friend down the neighborhood sidewalk when I was about 4 or 5 and overhearing the friend talk about me. "I worry about your daughter -she is so sober, never joyful."
What? Me? I didn't feel that way, but that description scorched deep into my self image. I knew many moments of delight as a child but allowed that story to tell me otherwise. I realized the other day I have believing that narrative about myself even though I know it is not true.
I asked God to help me practice joy more in His way. I cast away the old way of perceiving myself.  Frederick Buechner wrote "We have God's joy in our blood."   And I would add in our DNA.
The Lord your God is with you, the Mighty Warrior who saves.  He will take great delight in you; in his love he will no longer rebuke you but will rejoice over you with singing.  Zephaniah    3: 17
My practice of joy takes these intentional steps: Seeing. Saying. Savoring
Seeing – paying attention to all the moments of joy in each day.
Saying – expressing gratitude for joys.
Savoring – pausing and beholding those moments.
The fullness of joy is to behold God in everything.  Julian of Norwich
Each day I watch for joy, recognize its gift, and allow it to seep into my soul. Thank you, Lord for joy.
One place I find joy is in poetry. Mary Oliver's poem Mindful invites us to celebrate all that is present and how God is revealed in the ordinary things if only we stop to look, listen, and learn.
Every day I see or hear something that more or less
kills me with delight,
that leaves me like a needle in the haystack of light.

It was what I was born for –
to look, to listen,
to lose myself
inside this soft world –
to instruct myself
over and over in joy, and acclamation.

Nor am I talking
about the exceptional,
the fearful, the dreadful,
the very extravagant –
but of the ordinary,
the common, the very drab, the daily presentations.

Oh, good scholar,
I say to myself,
how can you help but grow wise
with such teachings as these –
the untrimmable light of the world,
the ocean's shine,
the prayers that are made out of grass?
by Mary Oliver
Good friend, I wish you the blessings of joy throughout your ordinary moments.  How do you practice joy?