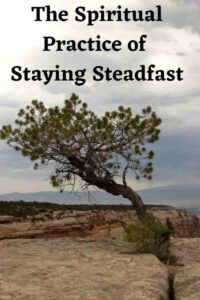 Steadfast. Now that's a word I don't hear often in conversation. "How's your steadfastness?" "Holding on tight. How is yours?"
Steadfast is a word we hear sometimes in our faith circles, but how often do we really check in on this virtue and how can we cultivate this practice?
Bible Verses
Steadfast appears in more than 125 verses in the Bible depending on the version and especially in the book of Psalms. Here are a few:
Therefore, my beloved brothers and sisters, be steadfast, immovable, always excelling in the work of the Lord because you know that in the Lord your labor is not in vain. 1 Corinthians 15: 58
But I trusted in your steadfast love; my heart shall rejoice in your salvation. Psalm 13: 5
Create in me a pure heart, O God, and renew a steadfast spirit within me. Psalm 51: 10
You will keep in perfect peace those whose minds are steadfast, because they trust in you. Isaiah 26: 3
May the God of steadfastness and encouragement grant you to live in harmony with one another, in accordance with Christ Jesus. Romans 15: 5
Meaning of Steadfastness
To be steadfast means someone who is firm and determined in a belief or a position. That person will calmly hold firm to the chosen way of living and follow through with determination.
The word steadfast traces back to the Old English word stedefæst, a combination of stede, meaning "place," and fæst, meaning "firmly fixed." Picture a steadfast person standing firmly in place, not wavering or budging an inch, and you'll have a good sense of what this word means.
The word "Steadfast" can also mean "Guarding the town." Not exactly what most of us think of today in connection with steadfast, but etymologically speaking, this comes close to the original meaning. For stead, from the Anglo-Saxon stede, is closely related to the Dutch stad, "town," and stede, "place"; and to the German Stadt, "town," and Statt, "place."
To be steadfast is to be stable; a steadfast person is steady, calm, and even-tempered, no matter what happens. Steadfastness is the quality of constant spiritual stability that a person chooses to have by remaining firm in their beliefs and convictions of Godly principles.
Cultivating Steadfastness
This word has jumped into my soul lately saying, "Ponder me. Listen to me. Learn from me." Ever have a word do that to you? You see it once, then it appears everywhere! When this happens, I have learned to pay attention to a lesson or new idea to emerge.
I now imagine steadfastness as a compass to guide me Home; to align myself with how God wants me to live. I know I don't use this word often, but I do journal, pray, and hold conversations with others about trust and faith. The three are related. In reflection and silence, God leads me in my daily walk.
I wonder if the Benedictine principle of stability relates to this word. Benedictines make a commitment to live in a particular way of life. It also implies not moving around from one monastery to another or for me jumping from one belief to a new idea or responding to the urgent, loud voices of the world instead of the one true Voice. Humans are always looking for the greener pastures instead of establishing deeper roots in the sacred.
Being steadfast isn't just balancing on one foot, trying to stay upright. Steadfastness is standing on a solid foundation assured no matter the storms, upheavals, or disruptions, we trust in God.
How do I cultivate steadfastness? Here are some thoughts:
I commit to daily, weekly and regular spiritual practices.
I try to live by my Rule for Life (I write about this practice here and here) and think being steadfast means abiding by these rhythms God has led me to discover. I do periodically reread and revise them – they are a personal standard, a way of living, my values.  How well am I living according to God's guidelines?
Focus on what I can control and not what I can't. Focus on God and not the problem/obstacles.  My life verse is "Keep your eyes on Jesus" Hebrews 12: 2. This is true when life is good – a time of gratitude – and when life become difficult – a time of trust.
Study the scripture. Tuck those holy words into my heart. Listen to how the Holy Spirit is guiding me in the word of God.
Prayer is more than chatting my needs to God. Listen. Be. Abide.
Be open to learning. To letting go of old, no longer useful beliefs. To grow and be shaped by God, knowing my ego will come along, just not as the driver in my car of life.
Remember we are all beloved children of God. Compassion and forgiveness for myself and for others.
To leap, trust, take that next step even when I am afraid and uncertain. God is with us always.
Do you ever wonder about steadfastness? What does it mean to you? What does it look like in your faith journey?  I would love to hear your experience with being steadfast.