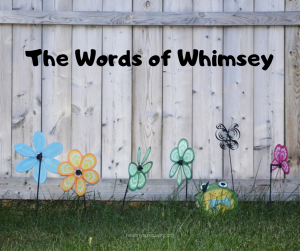 In January I shared here on Healthy Spirituality my theme for the year for this blog: WWW.
WWW stands for wisdom, wonder, and whimsey. I heard these words a few years ago and been thinking of studying them deeper, possibly expanding them into book(s). Why not start that journey with you all here on the blog to see if there is interest, enough "legs" to become book-worthy and to expand my own insight into these themes?
Wonder had its first appearance here and today I start down the Whimsey Way.  On that initial post I wrote, "Isn't whimsey a fun word? It tickles the tongue and brings smiles to hearts. I tend to be too serious and not take the time for joy and delight found in life. We have a God of joy and delight, One who takes delight in us too and I know I am missing this aspect in my relationship with God. The deep dive into the world of wonder will bring me to gratitude and I think I will find joy there too, but I want to explore how joy is also found in creativity, colors, other people. Whimsey is rich with possibilities."
How do I begin to discover more about whimsey? No better place to start than to explore the words of whimsey written by others.  Here are a few treasures I am pondering as I try to hear how God is leading me into this concept:
The Words of Whimsey – Definitions
There are a whole variety of meanings to the word whimsey; several that portray this characteristic shallow, flighty, and odd. Whimsey may connect with the word whim as "in a sudden wish or idea, especially on that cannot be reasonably explained."
Here are a few synonyms I find more helpful when trying to hear how God wants me to consider this word:
Playful
Amusing
Delightful
Imaginative
Brainstorm
Inspirational
Whimsey can also be a noun demonstrating the trait of acting unpredictably and more from whim or caprice than from reason or judgment.
I have discovered too that whimsey can be spelled with and without the "e", depending on its use. Bet I have misspelled it in the past and probably will do so in the future.
The Words of Whimsey – Quotes
To add some depth to my search, here are some quotes about whimsey to ponder:
We shouldn't be afraid to embrace whimsy, that nagging idea that life could be magical; it could be special if we were only willing to take a few risks.
Donald Miller
******
Creativity does not belong exclusively to professional artists and geniuses; it is the birthright of every single human being. Creativity is our common heritage. You don't need to quit your job and move to Paris in order to lay claim to this heritage – all you have to do is clear some space in your life for whimsy, invention, sensory pleasure, and play. Most of all, you have to learn how to follow your curiosity more than your fear.
Elizabeth Gilbert
******
Those who shun the whimsy of things will experience rigor mortis before death.
Tom Robbins
******
Living a life fully engaged in full of whimsy and the kind of things that love does is something most people plan to do but along the way they just kind of forget.
Bob Goff
******
If God brings our pets back to life, it wouldn't surprise me. It would be just like Him. It would be totally in keeping with His generous character… Exorbitant. Excessive. Extravagant in grace after grace. Of all the dazzling discoveries and ecstatic pleasures, heaven will hold for us, the potential of seeing Scrappy would be pure whimsy-utterly, joyfully, surprisingly superfluous… Heaven is going to be a place that will refract and reflect in as many ways as possible the goodness and joy of our great God, who delights in lavishing love on His children.
Joni Eareckson Tada
******
Whimsy turns the world upside down so we can love and cherish it when it is turned right side up. it helps us cherish what is good.
Joy Clarkson
The Words of Whimsey – Theological?
Do you wonder what this exploration has to do with God? Pastor Linda Rozumalski writes in this article about theological whimsey:
"But somewhere along the way, the fanciful nature of God's work was pushed to the background as unimportant. Whimsy doesn't have the gravity or credence that Law has. Laws are easier to manage. One knows where one stands if God is all about laws, and requirements, and prohibitions. Thou shall not, thou must always, thou had better…. The mainstream of the church has preferred to focus on the law. That aspect of God's word has held the stage for a long time. Punishment and retribution and vengeance – those are things we think are in God's domain. Grace, forgiveness and mercy flow from them as the gospel response. But the gospel, then, is just as weighty in balance. There's nothing fanciful about confession and forgiveness, right? It's soul searching and release of the burdens that we bear. It's important, transformational. There's nothing fanciful about the smudge of ash on our foreheads that reminds us that we are ashes and to ashes, we return, that from ashes we shall arise. There's no playful splashing about in the waters of baptism. Martin Luther stressed that we drown in those waters – death itself and sin and our old nature drown. We come out of the water a new creation: Gasping, perhaps, but not playfully splashing. It's all very serious.
But once in a while, once in a while hidden away in a secret covey of images, we find righteousness and peace kissing, or trees clapping their hands as they otherwise grow placidly beside still waters, or mountains bursting into song, or wildflowers decked out in more beauty than Solomon can ever muster even with all his wealth.
Once in a while, we find pure whimsy. The Leviathan of Psalm 104 – the sea monster that God made for the sport of it. Or a whale that does God's bidding in redirecting a reluctant prophet Jonah to save the Ninevites. Or angelic messengers who visit an old man and an old woman in the desert and tell them a baby will be born in the geriatric ward, and the old woman, Sarah, cracks up laughing; or maybe the same messenger centuries later who visits a young unmarried slip of a girl in Nazareth of Galilee – who tells her, "God has chosen you for great things and great joy for all people, for a child will be born to you and his name shall be Jesus, Immanuel, God with us.
It's a whimsical story, this biblical tale – but that doesn't mean it's less true than the Law and prohibitions – it means that God comes to us in joy, intends for us to experience good news of great joy in our lives, intends for us to find in God the fanciful potential of new beginnings that can lift us out of our selfishness or pain or lack of imagination for anything we can't touch or eat or drive.
Imagery can change your life. Imagination can alter your reality.
So that's why some of my favorite biblical passages are lovely little bits of whimsy – because perhaps it's not enough to be good people or to do justice and walk humbly. Perhaps it's not enough to follow the commands – not if we miss the joy and delight of living immersed in God's great love. I think that's true."
The Words of Whimsey – Next Steps
Where do I go with this hodge-podge of words about whimsey?
First I will pay attention to what God will show me about this concept. Listen deeply. Watch for moments. Name the feelings. Form the questions.
Second, I go on a short retreat in a few weeks – I plan to pray, listen, and journal about my three WWW's.
I will consider this question: How does whimsey relate to creativity, joy, and life? Isn't there an element of whimsey in this Bible verse?
"For as the heavens are higher than the earth, so are my ways higher than your ways and my thoughts than your thoughts," says the Lord your God. "… you shall go out in joy, and be led back in peace; the mountains and the hills before you shall burst into song, and all the trees of the field shall clap their hands."    
Isaiah 55:9, 12  
I want to talk with God about the following quote. We take the world too seriously and "adulty" and missed the delight God gives us every day.
"Because children have abounding vitality, because they are in spirit fierce and free, therefore they want things repeated and unchanged. They always say, "Do it again"; and the grown-up person does it again until he is nearly dead. For grown-up people are not strong enough to exult in monotony. But perhaps God is strong enough to exult in monotony. It is possible that God says every morning, "Do it again" to the sun; and every evening, "Do it again" to the moon. It may not be automatic necessity that makes all daisies alike; it may be that God makes every daisy separately, but has never got tired of making them. It may be that He has the eternal appetite of infancy; for we have sinned and grown old, and our Father is younger than we."
– G.K. Chesterton
I have much to process yet with this first step into God and whimsey. What stands out for you in this post? What other questions would you ask?