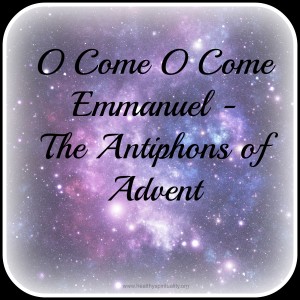 "It's time for the O's!"
"I love the O's. They really get me ready for Christmas."
"Oh, what are you two talking about?" I asked my friends. Not only did I hear the answer, but I learned a new Advent tradition.
The O's they were referring to are the Antiphons or sometimes spelled O'Antiphones. These are seven prayers chanted in the evening the seven days before Christmas. Actually the Antiphons ritual begins December 17 until December 23.
Their strange name, Antiphons, originates from the Greek language meaning responsive singing.
What is special about these sentences is that each one is a title for the coming Messiah.  They are, O Sapientia (O Wisdom), O Adonai (O Lord), O Radix Jesse (O Root of Jesse), O Clavis David (O Key of David), O Oriens (O Rising Sun), O Rex Gentium (O King of the Nations), and O Emmanuel. Each one refers to the prophecy of Isaiah of the coming of the Messiah.
The Seven Antiphons
December 17 
"O Wisdom, proceeding from the mouth of the Most High,
Pervading and permeating all creation, mightily ordering all things:
 Come and teach us the way of prudence."
December 18 
"O Adonai and ruler of the house of Israel,Who appeared to Moses in the burning bush and gave him the Law on Sinai: 
Come with an outstretched arm and redeem us."
December 19 
"O Root of Jesse, who stands for an ensign before the people, 
Before whom kings are mute and to whom the nations will do homage:
Come quickly to deliver us."
December 20 
"O Key of David and scepter of the house of Israel, You open and no one can close, You close and no one can open:   
Come and rescue the prisoners who are in darkness and in the shadow of death."
December 21 
"O Dayspring, splendor of light everlasting: Come and enlighten those who sit in darkness and in the shadow of death."
December 22 
"O King of the nations, The ruler they long for, the cornerstone uniting all people: 
Come and save us all, whom You formed out of clay."
December 23 
"O Emmanuel, our king and our Lord, The anointed for the nations and their Savior: 
Come and save us, O Lord our God."
I was amazed to learn that this tradition of welcoming Christ has existed since at least the 4th century. By the 8th century they were used in many of the churches in Rome and in monasteries. They become so common you could hear the phrase "Keeping the O's" and most would know exactly what you were talking about.
I found this video so we could learn more and listen to them.
These beautiful prayers express our yearning for Christ to come. The chanting melodies quiet my soul and draw me closer to God. They remind me that God keeps his promises and I can trust him.
O, I discovered a new treasure this Advent – Antiphons.
O, Come O, Come Emmanuel.
O Come Lord Jesus!