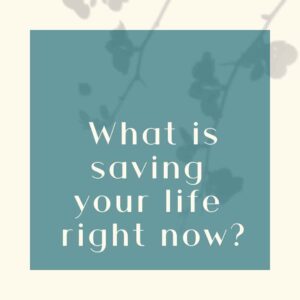 What's saving my life right now? When I first heard this question, I wasn't impressed. How odd, I thought. I don't get the value of asking this.
Last week I heard this question again from Emily P Freeman, then read another blog post by Crystal Rowe based on this.
Emily explained on her podcast the origin and importance of this question:
"Well, just this week I finished listening to Barbara Brown Taylor's memoir, Leaving Church. It's all about her story of finally getting her dream job as an Episcopal priest and serving a small parish in Georgia, only to realize about five years in that in order to save her own faith, she had to leave the role of priest behind. Now, I've read portions of this particular book of hers over the years, but the last few weeks I listened to the entire book from start to finish. Toward the end, she tells the story of being a guest speaker at an event. The topic she was invited to talk about was an invitation with a simple question. They asked her, tell us what's saving your life right now.
"Now because she's the one who tells that story and writes about it, most of the time, the credit for the question is given to her, Barbara Brown Taylor. But when asked, she credits John Claypool, who was once a Baptist pastor and later became an Episcopal priest. That's basically all I can tell from the little internet research that I did. But regardless of where the question comes from, although we'll always point back to BBT, so many of us have carried this question forward. This is true of the best questions. And asking yourself or someone else, what's saving your life right now, well, that could go in a million different ways and it could be answered forever and you may never get to the bottom of it. Barbara points out wisely that the same could be said for what's killing us. We tend to make those lists mentally all the day long, but what a wonderful way to redeem the day by turning that on its head, all those things that bother us and drive us mad, and asking instead, but what's saving my life right now?"
I am always curious about different practices so why not give this a try? Instead of an attitude of judging – I adopted curiosity. What if this question worked and revealed new God touches in my world? And it did "redeem" my day/week!!
What a joy to identify small simple daily gifts that bring light, comfort, and delight to my life.  Here we go:
Dragonflies – When we were in the panhandle of Florida for a weeklong beach vacation, hundreds (I am not exaggerating) of dragonflies swirled around us each evening. We heard they came in mass to eat the biting flies that nips our legs while we sat on the beach. Eat away, dragonflies!
Dragonflies are symbolic for transformation, change and being adaptable – all characteristics that match the swirling within my soul right now.
"The Dragonfly spiritually embodies the stripping away of negativity that holds us back, helping us to achieve our dreams and goals. Dragonflies are the keepers of dreams, the energy within that sees all of our true potential and ability. Dragonflies inspire spirituality and creativity, they help us on the path of discovery and enlightenment. They remind us that anything is possible." Unknown

I-Exit app – This handy free app for my phone was essential as we travel on the interstates. You click on the road (Such as interstate 65) and can see upcoming gas, food, and lodging by exit number and distance to that exit. We compared fuel costs and decided to go just one more exit to save 20 cents per gallon or to find the brand of gas my hubby preferred. It told us how far a restaurant or gas station was from the exit and which way, right or left, to turn.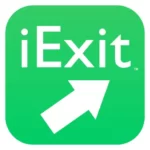 Packing Cubes – I love using packing cubes in my suitcases for organizing and keeping my clothes wrinkle free while freeing up space. Have you tried them?
Fall Colors – This year the vibrant reds and yellows dazzle and glow in the sunlight. God is outdoing his creativity in a magnificent autumn.  


New 2023 calendar pages – Purchased my 2023 calendar and inserted them into my Happy Planner. Spent a delightful afternoon organizing upcoming birthdays, anniversaries, and events. I love planning!!!
Olive and June nail polish – Confession: I am a nail biter. Or need to say a former nail biter. This is the first polish/routine that has encouraged me to stop picking and nibbling at my nails. I actually have strong somewhat-shaped hands that I don't hid when around others. They have a great selection of colors, and I even booked a one on one online meeting with one of their consultants (at no cost!) to answer some of my questions. How about that for customer satisfaction?
Skylight frame – My son and family gave me this digital photo frame for our anniversary and it is so easy to use and upload photos from my computer or phone.  I also love how others can send me photos to display too.  But the best is the moments of happiness as I watch friends and family and trip memories pop up across the screen.  A pause full of love and celebration.

What is saving your life right now?