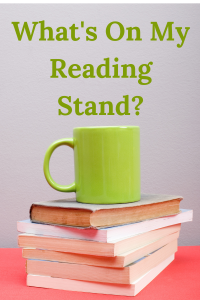 What's on my reading stand?  I don't know about you but I am one of those types who has multiple books going at once.  I pick one up to read one night, then often am onto another one next.  I love to slowly digest the wisdom from other writers.
I love the blog posts where I get the glimpse into what another is reading so thought today I would share what is piled up, ready to be taken in by my heart, mind, and spirit.
3000 Miles to Jesus – Pilgrimage as a Way of Life for Spiritual Seekers by Lisa Deam.  She had me at the word – pilgrimage -as that is a key word in my spirituality. This is a new title exploring that everyone is a pilgrim and we are all on a journey.  This is a book about traveling well.
"For Dante, pilgrimage required two elements; the challenge of distance and the sense of being strangers in a strange land." I certainly can agree with that statement – both in my external travels and my inward journey.
I especially like how she introduces us to fellow pilgrims from history such as Margery Kempe, Felix Fabri, and Pietro Casola and to whom the destination mattered. She shows us how their adventures along the road taught them important lessons, such as patience, perseverance, and an understanding of suffering. Yet these pilgrims always kept Jerusalem, kept Jesus, in their sights. And knowing their goal, they kept going.
Encouraging read that exposed me to some unfamiliar spiritual pilgrims while grounded me in what my journey held too.
Fall in Love with God's Word – Practical Strategies for Busy Women by Brittany Ann. This book lives up to its tag line and helps us abide in the word of God.  She covers many of the familiar basics while helping us think through our own obstacles.  It's a little preachy at times but I do want to finish it, hunting for some new ideas to refresh my time with God and to experience his love.
Always a Guest – Speaking of Faith far from Home by Barbara Brown Taylor.  I only have to notice the author to know I will love this book. This book is a collection of sermons full of wisdom, stories and grace. I love how I can pick up and fall into just one chapter at a time.  Yes I highlight and underline her thoughts and phrases as they enrich my soul. BBT at her best!
The Listening Path, The Creative Art of Attention by Julia Cameron.  Based on her primary message for creatives of using morning pages, an artist date and going for a walk, we are presented with exercises and ideas to listen to our environment, to others, to our high self, beyond the veil, our own heroes and to silence.  Beyond the Veil chapter is a little unsettling as she invites us to talk with the dead but I have occasionally heard from beyond friends but some may not agree with that chapter.  If you are not familiar with her practices like morning pages, she gives a thorough introduction into them. In fact, her book stirred my interest in morning pages once again and right now at least through Lent, I am participating in that discipline.
Plan B –  Further Thoughts on Faith by Anne Lamott. Not a new book but one I recently read a few quotes from that intrigued me. First written in 2006 as the author turned fifty, her essays show insight and wisdom that offers hope.  I just received this one so stay tune later for lessons I glean from walking with Anne Lamott.
Daily Prayer with the Corrymeela Community by Padraig O Tuama.  A delightful book of prayers that is enriching my morning time with God. This community is located in Northern Ireland, so it nourishes my ancestral roots too. I will be using this book at home and on retreat for quite a while,
Here is a segment of the morning prayer:
Help us to embrace possibility,
Respond graciously to disappointment
and hold tenderly those we encounter,
Help us be fully present to the day…
May we find the wisdom we need,
May we hear the needs of those we meet,
May we love the life that we are given.
Wintering – The Power of Rest and Retreat in Difficult Times by Katherine May.  And who hasn't felt the weight of difficult times this past year?  Winter is a my least favorite time of year so even the title invited me deeper to learn the lesson in off seasons and to find its gifts hidden under fallow times. I just started this book full of her stories and wise words and look forward to finishing it soon. Beautifully written.
That is my current list. How about you?
What are you reading right now?