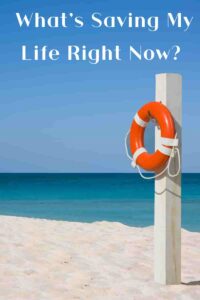 What's saving my life right now? Now. At this present moment. What is life-giving, uplifting, refreshing and stirring my spirit?
What's saving my life right now is a question Emily Freeman (A true mentor of mine) asks frequently.  She discovered this question in a book by Barbara Brown Taylor (another mentor of mine!) in her book, Leaving Church. Taylor shares the story of being a guest speaker at an event. When she asked for her topic, this was her host's request: "Tell us what is saving your life right now." These words invite us to pause, reflect, and savor what is giving us life at this moment.
When I relistened to Emily's podcast and what she was noticing in her life, that question dug deep into my soul. What is saving my life right now?
What's Saving My Life?
Journaling – I know writing in a journal isn't for everyone but wrestling with words to express my prayers, my desires, my longings, my hurts brings me healing and draws me closer to God.  This is an essential practice for me that when I neglect it or allow life to get in the way, I am lost and scattered without it. My words extracted onto paper in ink make The Word visible for my heart.
Quiet Prayer – No words. Just God and me sitting, "meandering", gazing in love with one another. Slowing down my actions, reactions, demands, and pleas creates space to experience God silently and sacredly.
Poem a Day Routine – My new practice this year. I am writing a short poem every day, well, most days. Sometimes I describe the weather or my mood or a circumstance.
One system I use is this: Line 1: abstraction + verb + place, line 2: describe attire, and line 3: summarize an action. I am learning about other creative ways to write poems while capturing ordinary moments in my life.
I have been surprised how this daily habit names my circumstances and my life. Maybe I will print them all into a small booklet as a keepsake at the end of the year. I am also finding I am being more honest and vulnerable as the year progresses and my words deepen.
Surprised how this simple practice of poetry,
Daily, pausing to hold the now,
Wrestling with words to grab the moment,
To capture a bit of life as time races by.
Yet this discipline gathers and savors ordinary occasions.
Meaningful Conversations in Community – I am an introvert (that often surprises people) but being with others drains my spirit while silence and solitude energizes me. Yet I found last fall I deep hunger to be part of a community, a spiritual community outside of my church setting.
I prayed. I explored. I paid attention.  Finally, I signed up for a year-long course through SpiritualityandPractice.com. titled: "Reading the Sacred in Every Day."  Part of this course establishes small spirituality groups where we meet weekly and share our experience with that week's practice. I was nervous to be part of a new group but almost immediately connected with the other four. What surprised me beyond my expectations is that my group is quite international with two of us from the United States, two from South Africa and one a spiritual pilgrim traveling throughout the world.
I asked God to deepen and stretch me spirituality this year through new insights and community and am so grateful God answered my prayer in such an exceedingly rich way. Thank you, Lord.
What's saving YOUR life right now? I would love to hear!