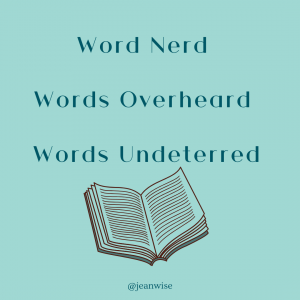 I am a word nerd. I love playing with words, learning new ones, studying the Word, and exploring their meanings and history. Some words tickle all our senses like a delicious treat as they cascade and take flight from our tongue.
I have been thinking a lot lately about words.
I love to read. One of my favorite books, next to the Bible, is my beat-up, falling-apart-at-the-seams Thesaurus. I am on several daily email lists highlighting interesting ones too.
I have been wondering if each of us have a single word set by God into the center of our souls that guide us throughout life. One word or perhaps a small phrase resonating throughout our lives adding meaning and purpose. Yes "word" could be my divine imprint, but I also am drawn to, "nourish/nurture."   
I do know I love having a word of a year.  This year's word – GO- is so simple, short, yet full of wisdom and guidance.  I have been amazed how GO weaves its way into my life and appears just at the right moment, guiding a decision. 
Words are powerful. They can destroy or build up. One word can sear itself into our DNA so deeply its influence on our thoughts, behaviors, and relationships goes unnoticed. Think of the enormity of hearing subconsciously "You are worthy," "You are ok," "You are a beloved Child of God."
I want the words I use to inspire, encourage, and nurture.
Words Overheard
Here are a few of the interesting words I have learned lately:
Florilegium – or commonplace book. This is an anthology of collected expressions or quotes. Tsh Oxenrider writes: "A commonplace book isn't where you write your deepest, darkest secrets, it's where you toy and fiddle with scraps of wisdom. It's a space to let the act of collecting words and arranging them just-so make you more human, more of who you're meant to be."
Brummagem is an adjective or noun meaning "showy but inferior or worthless."
Coddiwomple means "to travel in a purposeful manner towards a vague destination" to travel purposely but without knowing exactly where you are going.
When life becomes brummagem, try to coddiwomple. 
Then I read this poem – wow!
I, who live by words, am wordless when
I try my words in prayer. All language turns
To silence. Prayer will take my words and then
Reveal their emptiness. The stilled voice learns
To hold its peace, to listen with the heart —
to silence that is joy, is adoration.
The self is shattered, all words torn apart
In this strange patterned time of contemplation
That, in time, breaks time, breaks words, breaks me,
And then, in silence, leaves me healed and mended.
I leave, returned to language, for I see
Through words, even when all words are ended.
I, who live by words, am wordless when
I turn me to the Word to pray. Amen.
Madeleine L'Engle
Words Undeterred
Undeterred means to preserved, not discouraged, or detoured by obstacles or fear. Often my faith wobbles and fades, but through God's Word guidance, strength, and discernment lights my next step.
Life trips me with boulders of discouragement and distractions of fear, yet often one word from a friend, or simply their silent presence helps me to keep going.
If you are a regular reader of Healthy Spirituality, you know I frequently share quotes here.  These bits of wisdom inspire me and lift my spirit. Quotes are words undeterred.
Lately I have been editing the manuscript of my new book to be published by Kregel Publishing in 2022. My deadline to submit it is the middle of June, then of course, much more rewriting/editing will be required before its birth.
I have lost count how many times I have reread the manuscript. So many times that when I stumble upon a phrase, I assume someone else wrote it or go crazy with a paragraph that morphed itself and no longer makes any sense. Who wrote the picturesque turn of phrase? Couldn't be me. Or this work is so awful and should be destroyed, not published.
Chapters, paragraphs, sentences, and words – I drown in these words. I gulp deep breaths when I surface from the watery depths of editing.
Fun? At times.
Work? Of course.
Creative? For sure.
Worthwhile? My heart knows this is true.
Words. I love them. They bring me joy to play, sculpt, design, erase, and compile in various order.
What about you? Is there a core word in your soul? How do you use words?