What? Me worry? Never. Not me. Not I.  
Well, maybe just a little.
I do fret more about the kids now as adults then when they were younger.
But that's all.
But again, I do watch the weather forecasts like a maniac visualizing the cancellation of events and spending useless time and energy thinking of Plan B and Plan C just in case…maybe even Plan D and F, too.
But that's all.
Ok, I have starred out the window in the middle of night and paced the porch floor as multiple imagined far-fetched scenarios attack my sleep-deprived soul.
Sigh. I guess I do worry. I crave more ways to find peace, joy and energy in life.
Maybe that is why Jane Rubietta's new book, Worry Less So You Can Live More, appealed to me when it appeared on the list from Bethany House as a choice for bloggers to review. I was thrilled to get this book, which hasn't disappointed me. I want you to know I would have given it a good review even if I purchased it.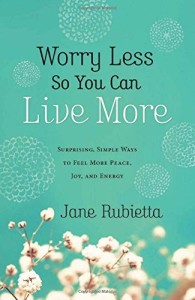 This book will inspire and encourage you and lift your spirit up with practical tools to enhance your experience with God and to deal with life's worries. It won't solve your problems but will give you wisdom to ponder and strength to carry on with more delight.
I especially love her thought provoking questions at the end of each chapter. – ones I plan to explore more as I journal.
Each chapter concludes with down to earth applications such as these questions, a great quote and a scripture. Another unusual addition to each chapter is her use of a Votum (what we offer to God) and a Benedictus (what God may say back to us)
Here is a nugget of Jane's wisdom to ponder:
"Control and worry seem like BFFs…Worry eats into our souls' bone marrow, weakening us from the inside out like osteoporosis. We end up with an extensive interior latticework, holes and more holes leaving us vulnerable to a break or a breakdown. What if bone-building, soul-building recovery looked like discovery? Discover of delight, of play."
I love her honest sharing:
"I find it easier to worry than to pray, and even in the middle of praying, I start worrying. Worry becomes a substitute for living deeply and living by faith in an uncertain world. The passivity of worry takes over any effort to pray, to love, to act. In this way, perhaps, worry becomes an addiction, because it impeded our participation in life itself and genuinely loving others."
Doesn't that make you stop and think? Do I prefer worry over prayer? I know at times I have.
This book contains hope and inspirational examples. I go on a silent retreat the end of this month and plan to take her book along to spend more time with its reflective questions and to pray her suggested Votum and Benedictus.
I find worry is much more pervasive in my life than I freely admit. How about you? How much does worry enter and distort your spiritual walk?