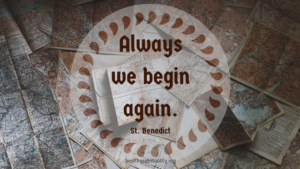 St Benedict guides us with these words of wisdom: "Always we begin again."
January 2017. New year. Fresh start. Clean slate. Always we being again.
The beginning is the most important part of the work. -Plato
I love this time of year. I spent much of last week, rereading my journal – I call it harvesting my journal.  I watch for patterns. I seek nuggets of God's presence in my past recordings. I highlight and underline. I sort and sift words. I listen in-between the spaces of the letters. Wisdom, a gift from God, emerges.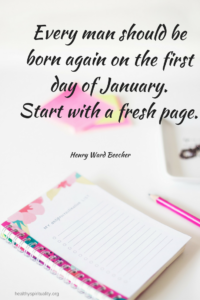 Always We Begin Again
I knew joy was a thread in my life last year as it walked with me as my word of the year (Got a word of a year yet?  You may like the recent post I wrote about it here).  The surprise I discovered last week though, was how the Trinity also accompanied me throughout 2016. What a wonderful gift to find!
I also uncovered the same old habits, periodic negative mindset, and ego driven hurts that seemed hard wired within my soul. Sigh.  Always we begin again.
The last three days of this process though, I sit quietly and listen deeply to where God may be leading me in the coming year. Bible verses appear and glisten with light. I sense invitation in words swirling around my heart. This year I wrote more than 20 questions that bubbled up in my conversation with the Lord.
No answers.  Just questions. Like a student starting the new school year, eager to learn and full of curiosity. Always we begin again.
I am open. Willing. Holding 2017 lightly for God's guidance.
The Lord is good. I trust in his direction.  Yet I sense some cautions in the coming year.  "Be a good steward of time and resources," I hear.
I remembered an article where Billie Graham was interviewed and asked if he could go back and do anything differently in his life, what would his do-over be.  His answer: "Guard your time. Don't feel like you have to do everything."
Graham's words sear my heart. Guard my time.
Always we begin again – open, willing, but also with a sense of self-care and trust in God's time.
And lastly I hear the word – leap. I love the Henri Nouwen story about the Flying Rodleighs that I have shared here in the past. You can read this great story here.
Leap. Trust the Catcher.  Move out of my comfort zone. Take a risk. Leap into God's great mystery and enjoy the ride.
And as always we begin again, I pause at this quote:
"I hope that in this year to come, you make mistakes.
Because if you are making mistakes, then you are making new things, trying new things, learning, living, pushing yourself, changing yourself, changing your world.  
You're doing the thing you've never done before,
 and more importantly you're doing something." 
Neil Gaiman
I begin again, knowing I will make mistakes. I will fall. Fail miserably and repeatedly. Yet I know the Master Artist, the God of second chances can pick up broken pieces and make mosaic masterpieces.  
I trust this Master Artist.
I believe in the One who creates and manages all time, including 2017.
I rely on the Catcher when I let go and leap into the unknown future.
I lean on the Lord's strength during difficult times, his light during dark times, and his amazing wisdom when I don't know what to do next with this one precious life he has given me.
I take his hand as God invites me, you, all of us forward into 2017 and together as always, we begin again.
What wild audacious step is God inviting you to embark on as you begin again in 2017?