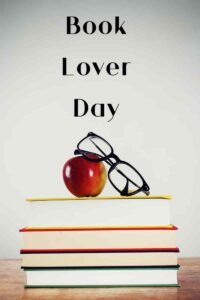 Book Lover Day is coming! August 9. This is a day to relax and enjoy a book – of course I think that could be every and any day. I sure do like reading and often am pouring my heart into several books at one time. Some I buy but many come from our library. Gotta love the library.
Here are a few quotes from my current pile of books.
Write for your Life – Anne Quindlen.
"I have to write to discover what I am doing." Flannery O'Connor
"We write to taste life twice, in the moment and in retrospect." Anais Nin
"Technology is a useful servant but a dangerous master." Christian Lange, in his 1921 Nobel Prize acceptance speech. Amazing this was said 100 years ago and is even more true today.
New Seeds of Contemplation – Thomas Merton (an often reread – do you have books you continue to pick up and reread?)
"Contemplation is the highest expression of man's intellectual and spiritual life. It is that life itself, fully awake, fully active, full aware that it is alive. It is spiritual wonder. It is spontaneous awe at the sacredness of life, of being. It is gratitude for life, for awareness and for being, It is a vivid realization of the fact that life and being in us proceed from an invisible, transcendent and infinitely abundant Source. Contemplation is above all awareness of reality of that Source."
Life of the Beloved – Henri Nouwen (I am revisiting all of my Nouwen books this year)
"Put simply, life is a God-given opportunity to become who we are, to affirm our own true spiritual nature, claim our truth, appropriate and integrate the reality of our being but most of all to say "YES" to the One who called us Beloved."
A Curious Faith: The Questions God Asks, We Ask, and We Wish Someone Would Ask Us – Lore Wilbert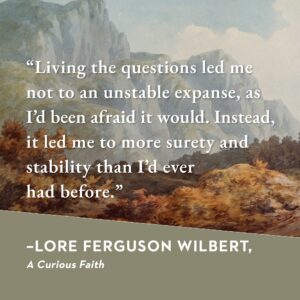 Bittersweet – Susan Cain (I have renewed this book several times from the library and thinking I just may need to purchase my own copy. This book is helping me befriend an emotion deep inside me that I have ignored. Very shelf-worthy book)
"I've concluded that bittersweetness is not, as we tend to think, just a momentary feeling or event. It's also a quiet force, a way of being, a storied tradition—as dramatically overlooked as it is brimming with human potential. It's an authentic and elevating response to the problem of being alive in a deeply flawed yet stubbornly beautiful world. Most of all, bittersweetness shows us how to respond to pain: by acknowledging it, and attempting to turn it into art, the way the musicians do, or healing, or innovation, or anything else that nourishes the soul. If we don't transform our sorrows and longings, we can end up inflicting them on others via abuse, domination, neglect. But if we realize that all humans know—or will know—loss and suffering, we can turn toward each other."
"If we could honor sadness a little more, maybe we could see it—rather than enforced smiles and righteous outrage—as the bridge we need to connect with each other. We could remember that no matter how distasteful we might find someone's opinions, no matter how radiant, or fierce, someone may appear, they have suffered, or they will."
What book are you reading now?