Discernment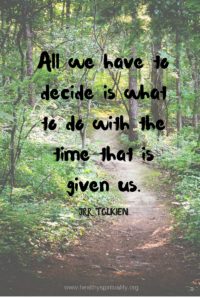 Discernment has been the theme for April's Tending the Holy Thursday posts. I find it fun and insightful to dig into a topic with more depth. This week I am sharing some lessons I have learned and pondered while studying discernment. May this topic help you through those difficult transitions and just plain daily choices.
The first week we began with defining and exploring discernment, second week I shared tips and how-to's, and last week's post of quotes and resources. You may want to read or review them as you need.
Discernment – Lessons Learned.
Discernment is more than decision-making. Yes, we use discernment at times of major life transitions and crossroads, but this practice also enhances our daily living. Living a discerning life is " hearing a deeper sound beneath the noise of ordinary life and seeing through appearances to the interconnectedness of all things, to gain a vision of how things hand together in our lives and in the world." Henri Nouwen. We can each day see God at work in the details of our lives. Discernment is paying attention to God's nudges and quiet voice and responding from that deep place within our soul where we know our true selves lives often hidden by ego and world's noise and clutter. Discernment is aligning ourselves with God, always in his way and always with our hearts set on love.
*****
I am just now fully grasping how much courage and trust it really takes to live in discernment. The world demands instant decisions, not the slow process of sorting and sifting. The ego wants and pulls and reacts from childhood hurts, always wanting to protect us, but discernment emerges slowly from a place of transformation. We have to trust the process of evolving and step out in faith that in time the path will appear. Living with the almighty Mystery of God conflicts with my urge to control and desire for clear answers. Faith is the only choice for me.
You do not need to know precisely what is happening, or exactly where it is all going.
What you need is to recognize the possibilities and challenges offered by the present moment, and to embrace them with courage, faith, and hope.
THOMAS MERTON
*****
The practice of discernment is just that a practice, not a perfected, clear methodology. This is a lifetime unfolding process of shaping us. I am going to stumble. I will feel confused and restless and unsure at times. But God is my strength, guide, and light. I have shared before Thomas Merton's well-known prayer and this is a great place to repeat it:
MY LORD GOD, I have no idea where I am going. I do not see the road ahead of me.
I cannot know for certain where it will end. Nor do I really know myself, and the fact that I think I am following your will does not mean that I am actually doing so.
 But I believe that the desire to please you does in fact please you. And I hope I have that desire in all that I am doing. I hope that I will never do anything apart from that desire.
And I know that if I do this you will lead me by the right road, though I may know nothing about it.
Therefore I will trust you always though I may seem to be lost and in the shadow of death. I will not fear, for you are ever with me, and you will never leave me to face my perils alone.
*****
Questions are invaluable in discernment. Paying attention to questions that arise often leads me to the right answers. What is God asking me? What questions do I see when I read the scriptures? What theme or topic resonates me or words that "shimmer" when I see them? Is there someone's name or subject that keeps appearing?  A few years ago, I found myself drawn over and over again to the Desert Mothers and Fathers and since then have dug deeper into their words.
*****
Discernment supports the universal question we all struggle with – Who am I? This basic question is one we seek clarity about all our lives. I believe life is a gift from God that is meant to be slowly unwrapped, enjoyed and discovered. Discernment is the tool that helps us reveal each layer. I know in my deepest core that I am a beloved child of God, but each new experience, day, difficulty, surprise give us new perspective, like seeing a new dimension of this diamond we call human life.   
Discernment, like working with clay on the potter's wheel, is messy and at times we just begin again. We may not know what the end creation will look like, but in God's hands it will be a masterpiece.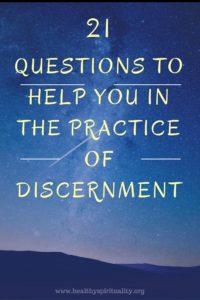 Living with questions when we want clear answers is messy, occasionally conflicting, and takes courage to persevere through God's gentle unfolding, evolving, and shaping in our lives. I compiled "21 Questions to Help You in the Practice of Discernment" and you can get this list free by clicking on the button below.  Please note I am working on my system so if you already subscribe to Healthy Spirituality you may get a message that you are already subscribed, but never fear – your free download will come quickly after that message to your inbox. Sorry for the confusion but the tech imp likes to make things harder at times.  HA!
 Click Here to Get the "21 Questions to Help with Discernment" Free Report
If you think this series is helpful, please share on social media and invite your friends to come explore this key practice with us.
What have you learned in this series on discernment?