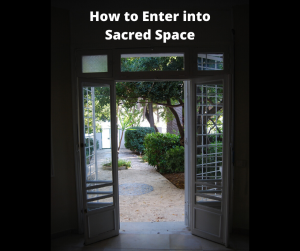 How do you enter into sacred space?
Barge right in?
Loudly bang on the door, demanding your right to cross the threshold?
Abruptly sit down, run down your list of prayers, then check this action off your to-do list?
Sounds horrible, doesn't it? Not very honorable of God. Yet lately I have become aware of my first moments as I move into my time with God.
Rushed.
Pressured.
Too much hustle and not enough holy.
This year I am exploring and pondering sacred space – internal and external.  You can read about my theme for the year here.
What I Learned During my Online Retreat
I experienced God in a new way a few weeks ago when I participated in Becky Eldredge's  Busy Person's Online Retreat. I spent longer morning time in prayer, Bible reading, and journaling and finished each afternoon on Zoom with a spiritual director. 
One of the best lessons I learned was how I entered into sacred space of prayer and journaling impacted how I heard God and felt his presence. When I rushed into my time of prayer, I swam in shallow waters.  Deep floating and refreshing waves of love swept me to new levels when I entered slowly, humbly, and reverently.
This reminded me of a nearby lake's New Year's Eve Polar Plunge. Every December 31, dozens of bathing suit cladded folks run into the icy waters, jump around frantically, then shivering and shaking race to the shore, dry towels and the heat of their waiting cars. Fun to watch but also raises my anxiety level just observing this annual scene either live or on the news.
I often enter prayer with a polar plunge mentality instead of a pure pause of piety.
My 10 "S"s of Entering into Sacred Space
Here are the steps I took that hallowed my gently entering into my time with God:
Stop – I paused, bowed before my Lord Savior and beheld the majesty of this unconditional love and who God really is.
Scent/Spirit – I lit a candle, radiating a glow in the room and my heart – its flame representing the Spirit of God.
Sound – Often I hummed or sang a couple of verses of a hymn. Just the act of humming, slowed me down.
Silence – I set the Centering Prayer app on my phone for 15-20 minutes of silence.
Scripture – I read certain Bible verses, either ones suggested by the spiritual director or others that resonated with me. The week of the online retreat Psalm 16:8 became and still is my breath prayer. "I keep my eyes always on the Lord."
Speak/Listen – I prayed for people that came into my mind, asked God for discernment for some concerns and then listened for his response.
Stillness/silence – Often we just sat together, enjoying each other's company in silence. At this point becoming still is much easier since I entered with more intention and less rush.
Script – I journaled my experience. Several times I used the dialog prayer method explained in this post.
Surrender – I held my palms upward with all my prayers and gave them into God's hands.
Savor – I smiled. God smiled. We savored the moment.
Do you sense the slowness, the sacredness, the specialness? I felt so blessed by God that week and realized when I practiced these 10 S's, space for God in my heart opened wider and deeper.
Have you ever considered HOW you begin your time of prayer? What helps you quiet and come to God?