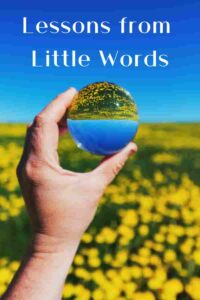 Little words hold power.
I should know this by this point in my life, but I still am discovering often it is the simple, seemingly unimportant words that deepen our understanding and light our way. Minor words we don't fully see that connect thoughts and sooth our souls. They exist and add to our lives but we don't value or savor them.
I see this wonder every year with my practice of adopting and exploring a word of the year. Two years ago my word was "Go' and last year I walked with "all."  Two unassuming words offering me wisdom and insights.
This year instead of one word, God led me to a phrase. "Honor the thirst deep within."  The obvious power words to study and explore in this sentence is "honor", "thirst" and "deep" and I have learned from analyzing and pondering those words.
Yet on retreat this year that tiny almost tacked-on word at the end of my phrase "within" sprang into my spirit and shared its story. To be honest I hadn't paid attention to its presence but "within" glowed like a neon light.
With – God reminded me they are even with me. I am not abandoned. I am not alone. Someone does care and stays with me. God is near. Alongside. On retreat the invitation came and remains, "Come and stay." With adds dimension and depth to the power words in my phrase.
In – God lives deep in me. God's DNA swirls with mine. I am held in a divine embrace that will never let me go. This sacred center glows with the heat of the Holy Spirit and warms my heart. God's light shines so I can reflect that light to others. I cannot evoke the flame but I can tend the fire through stillness, prayer and presence.
God with me. God in me. Intensifying my thirst, how I honor, and the depth of my spiritual journey.
Are any little words impacted your soul lately?
Any new insights to what words are whirling around you?