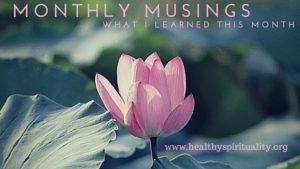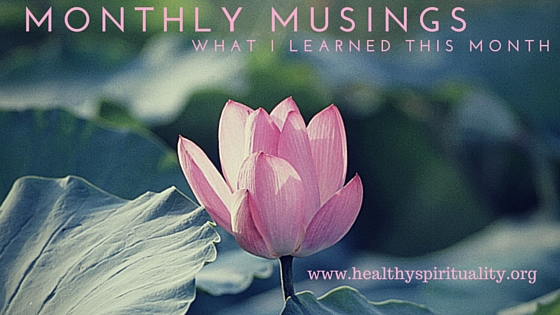 April Monthly Musings
Spring has arrived in northwest Ohio. This is my favorite time of year – I love the new buds on trees, early flowers, and opening the windows for fresh air. Writing these monthly reflections remind me to pause and say thank you to the Lord of all seasons.
How are you living a reflective life?  Each month I look back at what I am discovering, learning, and exploring in life – I call these my monthly musings. Capturing these special moments gives meaning, depth, and delight to life.  Let's wake up to the wonders in the ordinary all around us.
I record what I notice on the pages of my Monthly Musings Journal. You can use anything, scrapes of papers, a journal or a calendar.  Copies of my Monthly Musing Journal are available on Amazon and are a convenient way to keep track of the little things in life we often miss. Or if you want to click the button at the end of this post to get a FREE copy of my one sheet Monthly Musing handout.
Monthly Musings Lesson Learned:
I was fascinated with last weekend's demonstrations by scientists in so many locations. Scientists are usually the behind the scenes, quiet, "just let me do my work" types (sorry to generalize so much) and to see them carrying signs, bringing attention to funding cuts, and making their voices known was inspiring.
This photo made me smile: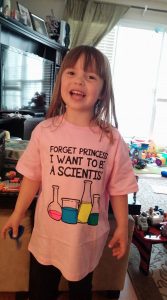 Then learning and writing last Tuesday about Amelia Bloomer and her story stirred my sense of justice. How are we called to speak up for those who can't? To make a difference when society is unjust? I am open to where God calls me and feel a growing restlessness in my apathy and ignorance of some very critical social issues.
Social justice is one type of spirituality that some people find quite natural and others, like me, need to cultivate. Ironic that one of my spiritual mentors is Dorothy Day, quite known for her activism.
Monthly Musings Good Reads and Book Finds:
Last month I introduced to this community the Healthy Spirituality Monthly Book Chat and shared with you Macrina Wiederkehr's Seven Sacred Pauses.
Just borrowed from the library and am reading now Anne LaMott's newest – Alleluia Anyway – Rediscovering Mercy.
And I purchased James Martin, Essential Writings and Nathan Foster's The Making of an Ordinary Saint.  I think one of these three will be the May Book Chat selection.
Anyone read any of these yet?
Here's an article that taught me things I didn't know about the simple pencil: A Brief History of the Pencil.

Monthly Musings Words of the Month:
I discovered two fun words this month:
JAMMY – British adjective for very lucky, pleasant, easy and desirable.  Example: he has a jammy job.
DINKUM – Australian adjective for genuine and authentic.  She is a dunkum friend.
Monthly Musings Wise Words to Remember:
What would your bucket list include if you knew you had 80 more years? Ten? One? A month, week, a day. An hour. How we would spend our last seconds on the threshold has enormous power to transform all our days, even if today is the first of many, many more.
-Br. Mark Brown 

And a quote lingering in my heart as I ponder justice:
To sin by silence, when we should protest, makes cowards out of men.
Ella Wheeler Wilcox
Terrific Tools and Tips or Innovative Ideas I Discovered:
I had a fun discussion this past weekend with my mother-in-law about what kitchen appliances/gadgets we didn't used to have, but have now and love.  The microwave was high on my list.
Tonight my hubby and I agreed we love our Mr. Coffee mini coffee bean grinder. It has traveled with us to the Outer Banks and Florida and is an everyday item for us. When he grinds those beans, "wake up, it's morning" aroma fills the house.
My mother-in-law mentioned how she loved these liners you put on the bottom of the oven for easy clean up.  I think I will get these too.
A few affiliate links are used here, which means at no extra cost to you, making a purchase by clicking these links helps support this site. Thanks!
What did you learn in April?
Please share – I would love to hear about your journey and all your life lessons.
If you want a copy of my cheat sheet I have made it into a free downloadable printable and you can just the button to get the free printable. I compiled these sheets plus additional information in a book, a two-year journal that is available on Amazon. I don't want to lose the loose sheets of paper and think having it in a book form will make it more of a keepsake. Keep all YOUR musings in one place.
Click here to request your Monthly Musings Printable