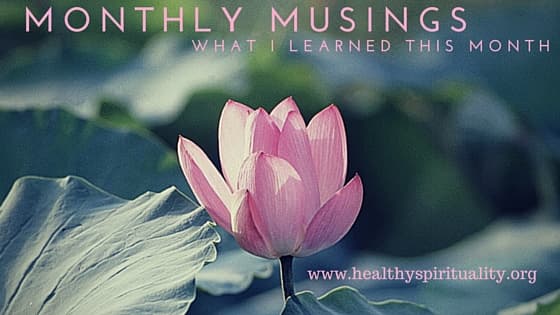 October brings multiple colorful gifts. I love God's Palette this time of year and mused about that observation last week.
The October trees also share their lessons about letting go – a spiritual practice I wrote a series on in 2017.
The trees are about to show us how lovely it is to let the dead things go." Anonymous
Each month I look back at what I am discovering, learning, and exploring in life – I call these my monthly musings. Capturing these special moments gives meaning, depth, and delight to life. Let's wake up to the wonders in the ordinary all around us.
I record what I notice on the pages of my Monthly Musings Journal. You can use anything, scrapes of papers, a journal, or a calendar. Copies of my Monthly Musings Journal are available on Amazon and are a convenient way to keep track of the little things in life we often miss. Or if you want to click the button at the end of this post to get a FREE copy of my one sheet Monthly Musings handout.
What I Learned in October
Monthly Musings Lesson Learned:
Finishing October makes me realize how soon 2020 will be over and most of us will be glad to get this crazy year wrapped up. Perhaps that is why Michael Hyatt's series about A Countdown to 2021 appealed to me. Hyatt is offering posts with insights to how we experienced 2020 and what we can take from this year to make us stronger and wiser in 2021.
I know prayer and journaling have been saving practices for me this year. In both I name my emotions, my fears, my ups and downs, and then reframe them with God's love and wisdom. Just this morning, God reminded me He is my rock, my firm foundation in the midst of shifting sand and shaky ground. Thank you, Lord!
Monthly Musings Good Reads:
I am enjoying savoring my friend, Vicki Duerstock's newest and very beautiful books.
Heart & Home for Christmas: Celebrating Joy in Your Living Space,
Advent Devotions & Christmas Crafts for Families: 24 Scripture Reflections & Simple Projects to Anticipate Christ's Birth and
Extraordinary Hospitality for Ordinary Christians: A Radical Approach to Preparing Your Heart & Home for Gospel-Centered Community
So inspirational and stirs the desire in my heart to be more hospitable and creative in my home.
I am also slowly taking in the words and wisdom of Teresa of Avila's Interior Castle. You can't rush this book. I have in the past taken classes about this classic and read other versions but right now am reading the one by Mirabai Starr and taking a video class about this book taught by James Finley and the Center for Action and Contemplation.
Both the class and the book are slow reflective reads and one I will revisit. I find I have to listen to the video three or four times and then only begin to fully grasp all that is being taught. This material is stretching my heart and mind towards God.
What an interesting article of the Power of Consistency – something I know I have to work on.
Monthly Musings Wise Words to Remember:
All three quotes made me pause and ponder this month:
At the same time, our Lord showed me, in a spiritual manner, how intimately he loves us. I saw that he is everything that is good and supports us. He clothes us in his love, envelops us and embraces us. He wraps us round in his tender love and he will never abandon us. As I understand it, he is everything that is good. He also showed me a tiny thing in the palm of my hand, the size of a hazelnut. I looked at this with the eye of my soul and thought: 'What is this?' And this is the answer that came to me:
'It is all that is made.'
I was astonished that it managed to survive: it was so small that I thought that it might disintegrate. And in my mind I heard this answer:
'It lives on and will live on forever because God loves it.'
So every single thing owes its existence to the love of God. I saw that this tiny thing had three properties that were essential to it. The first is that God made it; the second is that God loves it; the third, that God preserves it. But I cannot say what this Creator, Preserver and Lover is. Until I am united with him in my essential being, there will be no true happiness for me – by that I mean that until I am linked to him so closely that there is absolutely nothing between God and me.
~Julian of Norwich, extract from Chapter 5 – The first revelation Divine Love
We don't need more to be thankful for, we need to be more thankful. –Source Unknown
Maybe the reason it seems hard for me to forgive others is that I do not fully believe that I am a forgiven person. If I could fully accept the truth that I am forgiven and do not have to live in guilt or shame, I would really be free. My freedom would allow me to forgive others seventy times seven times. By not forgiving, I chain myself to a desire to get even, thereby losing my freedom. A forgiven person forgives. This is what we proclaim when we pray "and forgive us our trespasses as we forgive those who have trespassed against us." This lifelong struggle lies at the heart of the Christian life. Henri Nouwen.

Fun and Innovative Ideas I Discovered:
I have several friends who are consultants for Epicure seasonings. Though a few flavors I haven't liked, most of the packets have been great and fun to experiment with in the kitchen. I get tired of the same old recipes over and over again so this has been refreshing.
Bethany Jett showed me these clever paper holders called EzSTACK. I have never seen them before and bought a set to use for an upcoming book I want to write. They keep paper compact and separate.

If you want a copy of my cheat sheet, I have made it into a free downloadable printable and you can just the button to get the free printable. I compiled these sheets plus additional information in a book, a two-year journal that is available on Amazon. I don't want to lose the loose sheets of paper and think having it in a book form will make it more of a keepsake. Keep all YOUR musings in one place.
Click here to request your Monthly Musings Printable
How was your October? Please share – I would love to hear about your journey and all your life lessons.