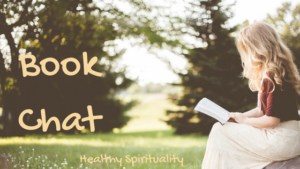 The Art of Pilgrimage: The Seeker's Guide to Making Travel Sacred by Phil Cousineau is this month's Healthy Spirituality Book Chat selection.
As I mentioned a few weeks ago, I want to feature a Christian book that I am reading or want to reread. To be honest, I have a towering pile of books I want to read, but never seem to get to and now by telling you this idea, I am hoping I take the time for more reading and study in my own spiritual journey. I also have a several "top shelf" books, that I have read previously and loved and want to dig back into their words once again. I yearn to go deeper and less shallow in my spiritual walk.
With this monthly Book Chat, we will take a look at a book and glean a lesson to nourish a healthy spirituality. To stretch myself, in addition to what I share in writing on this blog, I want to include a video about the book and a second insight from its words. I may even try doing this as live streaming on Facebook Live.  YIKES!
The Art of Pilgrimage: The Book
The Art of Pilgrimage was originally released in 1998, but was updated and expanded in 2012, so if you decide to purchase it be sure you get the latest edition.
Yes, the book is about how to open your mind and heart to finding more meaning in your travels to new and exciting places, but it is so much more. The book oozes with thought provoking quotes and wisdom. Obviously, pilgrimage is more than a trip to an exotic location.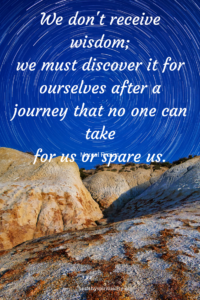 What is a Pilgrimage?
I wrote about the difference between a vacation and a pilgrimage on this blog post published last June. 
On a pilgrimage, the intention is to be open to God and allow the experience to transform you. It is not about the destination(s), as either a vacation or pilgrimage can explore an historic site or sacred spot – it is about the journey within.
Cousineau defines pilgrimage as a transformational journey to a sacred center. He explains:
"According to the dictionary, the word pilgrimage derives from the -Latin peligrinus, foreigner or wayfarer, the journey of a person who travels to a shrine or holy place. Another older derivation, more poetic, reveals that pilgrim has its roots in the Latin per agrum, "through the field." This ancient image suggests a curious soul who walks beyond known boundaries, crosses fields, touching the earth with a destination in mind and a purpose pose in heart."
Pilgrimage is a powerful metaphor for life itself. This book reminded me that life itself is a journey and we are – if we seek with open eyes and heart meaning in our life – are all pilgrims.
The Art of Pilgrimage: The Lesson
I enjoyed rereading this book. Yes, in the Art of Pilgrimage, Cousineau shares his extensive travels to sacred and exotic places in the words and  he sprinkles wonderful quotes, deep insights and bits of wisdom with his words.
"It's not so much what you do, it's how you do it."
Epicurus
One of ancient functions of pilgrimage is to wake us up. What rose within my heart as I read this book?
I once again realize how our lives embody a journey. Our lives follow a spiritual path.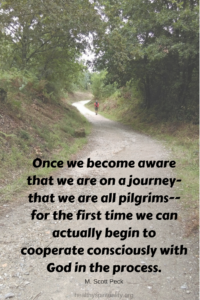 As I gleaned the pages I felt challenged to see my world – the common everyday one with new eyes and imagination. When our point of view is filtered with curiosity, wonder and awe of what we hold – the gift of life and breath, the robin and sparrows, the miracle of tulips emerging from their slumber, the rumble of thunder, the giggle of a child, the tender embrace of love – when we see even our ordinary as a journey – we find treasures of wisdom and reconnect with our souls.
"How we pack our bags defines our journey. We choose what we carry."
Phil Cousineau
How do we participate in the practice of pilgrimage? Again, I return to my word of the year – attentive/attentiveness.
Pay attention
Find the sacred in the ordinary
Listen deeply for God's whisper, to others' needs and my own voice
Seek the God of all things in all things
Pack lightly – don't cling or carry those heavy burdens
Be patient with detours as they may lead to exciting adventures
Be willing to take risk, taste new foods, accept others as they are.
Cousineau shared the following story:
"Long, long, long ago in the medieval village of Cracow, in what is now Poland, there lived a poor and pious old rabbi named Eisik, son of Jekel.
One night Eisik was called by a dream. The dream told him to make the journey to Prague, many days' arduous travel away. There, beneath the great sprawl of the bridge that led to the royal castle, he would find a treasure trove of gold that would change his life.
At first, he shrugged it off, pretending that he didn't believe in dreams. But when he had the same dream the next night, and then a third time, Eisik decided that he had better heed the call and make the journey.
Several nights later, he arrived in Prague and discovered the bridge but was dismayed to see it guarded by soldiers. The rabbi felt thwarted that he couldn't immediately dig for his fortune under the bridge, so he lingered helplessly. A harad rain began to fall. Up and down the riverbank he prowled, until he was stopped by the captain of the guard, who asked if he had lost something. The rabbi said no, but that he had come a long way to find something. Then he revealed his dream about the hidden cache of gold underneath the bridge.
"Gold!" the captain blurted out. He couldn't keep himself from laughing, then admonished the rabbi for believing in dreams. "What reasonable man takes them seriously?" he asked. "As a matter of fact, I heard a voice call out in an absurd dream just a few nights ago, urging me to take the long journey to Cracow and visit a rabbi, Eisik, son of Jekel. The voice told me look in the recess behind his stove where I would find a gold treasure."
Shaking his head in disbelief, the captain warned the rabbi about the sin of gullibility and went back to his post.
Rabbi Eisik hurried home and, once inside, searched behind his stove, and there found the treasure that ended his poverty and did indeed change his life."
We already hold the treasure that will transform our lives. The book reminded me that God loves us before we were born and for eternity even after our human live ends. God is present – we fail to see him.
"If we truly want to know the secret of soulful travel, we need to believe that there is something sacred waiting to be discovered in virtually every journey."
Phil Cousineau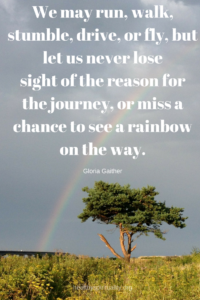 The driving force for every pilgrimage, no matter the destination, is a desire to be with God. To know God. To grow closer to him. To see him in a new way. To hear what he is teaching us in that space and time and season.
Pilgrimage awakens the spirit within us, renews our faith, and opens us up to the grace and peace of the Holy Spirit.
We enter into a pilgrimage not just to see the world, but to be transformed by God.
"True pilgrimage changes lives whether we go halfway around the world or out to your own back yard."
Martin Palmer
I hope you take the time to explore The Art of Pilgrimage.  In the following video (if you are reading this by email, you may have to go to the blog to watch the video) I share a second insight from this book.
Remember:
What matters most on our journey is how deeply we see, how attentive we hear and how far we dig into the richness of the encounters we have and allow them to take root in our hearts and souls.
What have you read lately that has transformed your life?  What are you carrying on your pilgrimage?