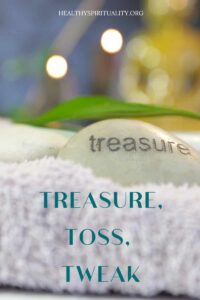 Treasure, Toss, and Tweak
I heard this phrase earlier this month as a guideline for year-end review of our lives. I am carrying this phrase into this week as I review what worked, what gave life, what drained life, and what do I want to carry forward into 2022.  I also listen for a word, image, and/or verse to guide me ahead.
I have shared some year-end rituals and questions on previous blog posts and invite you to revisit those words for some inspiration.
I encourage you too to take the time to listen to your soul, linger with God, and savor time with family and friends. Be intentional about pausing and paying attention to what is stirring within you, calling your name, summoning, and welcoming you onward.
I Am the New Year
I am the New Year. I am an unspoiled page in your book of time.
I am your next chance at the art of living.
I am your opportunity to practice what you have learned about life during the last twelve months.
All that you sought and didn't find is hidden in me, waiting for you to search it but with more determination.
All the good that you tried for and didn't achieve is mine to grant when you have fewer conflicting desires.
All that you dreamed but didn't dare to do, all that you hoped but did not will, all the faith that you claimed but did not have-these slumber lightly, waiting to be awakened by the touch of a strong purpose.
I am your opportunity to renew your allegiance to Him who said, "Behold, I make all things new."
– Author Unknown
What do/did you treasure?
What needs a little tweaking in your life?
What needs tossed and no longer life-giving for you?
Thank you for reading my words each week and I relish our connection and sharing. May God bless your New Year with wisdom, wonder and a bit of whimsey!