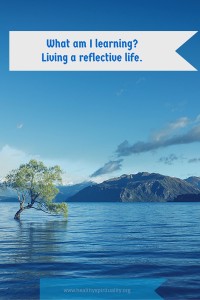 Several blogger friends post a summary of what they learned each month. Emily Freeman originated the idea and I love reading different people's lists – always full of tidbits of wisdom, innovative ideas, and resources. My blogger friend, Dolly, does this also.
Emily writes on her blog: "I'm a firm believer in the importance of looking back before we move forward."
And I certainly agree with her. This simple practice has helped me live a more reflective life and to capture those moments/tips/words of wisdom that mean so much to me, but too often I forget in the daily busyness.
This method appeals to me because it is so hard to capture and remember good moments when life is moving so quickly and with so much noise.
So I wanted to do join this growing trend for monthly reflections BUT…would always forget!! Soon it would be the end of the month, I would be reading their posts again and thinking where did the time go? One more month of not gathering the precious thoughts I wanted to hold onto.
Finally at the beginning of last month I created a cheat sheet to help record my observations and fun finds as the month progressed. I call this my Monthly Musings and thought I would share a few with you today.
Monthly Musings: August:
Lessons Learned:
I was reminded once again that

things take time

. Why do I have to continually relearn that lesson?
Also I found myself again easily addicted to social media. I need to be careful and filter what I get caught up in or I lose too much time playing instead of learning. I think writing down these two observations will help me recognize them sooner (or at least be a little accountable if they keep showing up on my monthly sheet. LOL)
Washi tape – where have I been? I never heard of this. Have you? Guess I am not that crafty. Washi tape is being used by all these organizing planners to decorate and segment their calendars, scrapbooks, and planners. Think pretty decorative masking tape. Fun.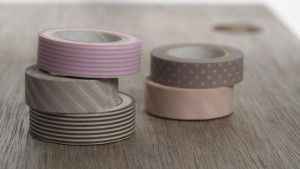 Good reads:
I wrote about my favorite new devotional book, The Book of Daily Prayer by John Baillie on this post. Old book full of wonderful prayers that I use every morning to bring me into God. 
The One Thing – by Gary Keller. Good book to help you ponder what is the one thing right now I can do that by doing it everything else will be easier or unnecessary. Instead of worrying and fretting over all the details, what is the one next step or one actionable item I can do?
Wise words to remember:
     "Things which matter most must never be at the mercy of things which matter least." Goethe
   "Day (n): a period of 24 hours, most often misspent." Ambrose Bierce
   "I've come too far to take orders from a cookie." A Weight Watcher saying
Terrific Tools/Tips:
     I am having fun learning the new live streaming app called Periscope. Crazy, but also very educational. You have to filter it – some "scopes" are terrible, poor or limited topics (i.e. walking my dog in Central Park") but many are fascinating. I just listen to one who shared her latest favorite apps for her Mac computer. I have never heard of any of them – and I am a Mac fan.
Innovative idea:
FOMO – Fear of Missing Out. Now I have a name for this underlying reason when I overconsume a snack, a social media or a news feed. I need realized before how my compulsion was so based on fear. Fear I would never get that opportunity again. Fear of being left out of the loop.  Just plain fear. Name it and claim it!
Joys and Delights:
   My daughter Katie send her youngests – the twin boys – to preschool. Sure brought back memeories. And we took all the grandkids on a locomotive ride during our village festival. Fun.

Favorite post:
The Most Important Invention Ever Discovered.
Let me know if you enjoyed seeing my monthly musings and what I learned this month. I have developed a printable of my monthly questions and am willing to share it with you  But having technical problems as I write this of adding that option to this post. Will let you know when it is available.
 What did you learn in August?
Click here to request your Monthly Musings Printable: