I expect to pass through this world but once.
If, therefore, there be any kindness I can show, or any good thing I can do, to any fellow being let me do it now.
Let me not defer nor neglect it, for I shall not pass this way again.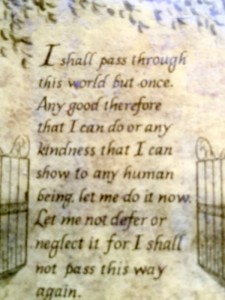 I have this quote sitting on my kitchen window sill. To be honest I have moved it from house to house, season to season and mood to mood. It is one of my favorite and has proven true. A powerful quote to guide my way.
Some sources say it is a Quaker saying from the mid 1800s; other credit it to Stephen Grellet, a Quaker missionary.
I believe its message on the value and importance of kindness. And kindness in a prompt manner – don't leave that good intention on the shelf.
My mama lived this quote and practiced its meaning. She would always say if you hear something kind about someone, pass that onto that person. Everyone needs to hear kind words – there is just too much negativity surrounding us.
Smile at the store clerk.
Use the person's name in your conversation.
Offer to pray for someone.
Write that long overdue letter.
Prepare a special meal or surprise a family member with breakfast in bed!
Teach someone.
Listen to someone.
Just sit in silence with someone.
I realized this week how God has been showing me the Fruit of the Spirit this year. I have been pondering gentleness, self-control, patience, faithfulness, and now kindness.
I am excited to see where he will invite me next.
I do "I expect to pass through this world but once." so now is the time for kindness.
If in doubt, choose the more compassionate option.
If rushed, pause before running off and really look for that opportunity for empathy.
Seek understanding more than my being right or voicing my opinion.
Express my gratitude to others and to God.
Reach out to someone I have lost contact with.
Be gentler and kinder when I drive.
Pass on that compliment.
Simple.
Inexpensive.
Not always easy but always in need.
Kindness
Kindness is just love with its workboots on. ~Author Unknown 
You cannot do a kindness too soon, for you never know how soon it will be too late. ~Ralph Waldo Emerson 
Three things in human life are important. The first is to be kind. The second is to be kind. And the third is to be kind. ~Henry James
How do you practice kindness? Do you have a favorite lifelong quote?