Monthly Musings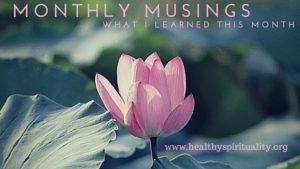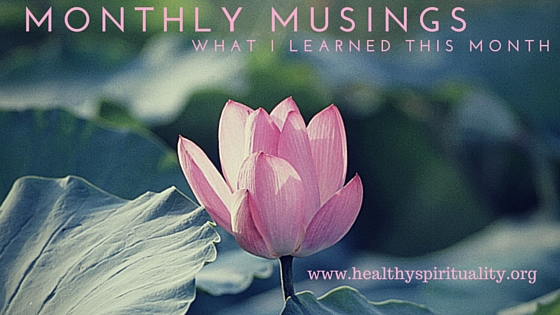 Here are September's Monthly Musings. Each month I pause and take a look back at what I am discovering, learning, and exploring in life – I call these my monthly musings.
I believe strongly in living a reflective life as a spiritual practice. We rush through life, often missing the lessons, enjoying the highlights and sleeping through what we should be paying attention to. Capturing these special moments gives meaning, depth, and delight to life.
I record what I notice on the pages of my Monthly Musing Journal. You can use anything, scrapes of papers, a journal or a calendar.  Copies of my Monthly Musing Journal are available on Amazon and are a convenient way to keep track of the little things in life we often miss. Or if you want to click the button at the end of this post to get a free copy of my one sheet Monthly Musing handout.
Monthly Musings – What I Learned in September 
Lessons Learned
My series on hospitality drove home to my heart that this practice is a calling for all of us, no matter how gifted we are or don't feel we are in its richness.  If you missed any of the posts on this topic here are the links to each one:
Hospitality – Cultivating a Welcoming Spirit
Hospitality – Tips for the Introvert for Cultivating a Welcoming Spirit
Quotes and Resources for Cultivating Hospitality
5 Lessons about Cultivating a Welcoming Spirit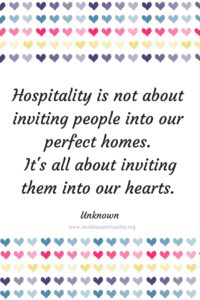 Fitbit update:  I wrote this month about my missing Fitbit on this post: Am I Losing my Mind?  Feeling Incomplete and Missing Pieces   
The good news is yes, after five days I did find it.  Here is restaged photo of its hiding place.

The door handles of the pantry are the same level as my pant pocket where I clipped my Fitbit. I must have scraped against the handle as I walked by and the little step counter latched onto it. No wonder I didn't find it on the floor and interesting isn't it, that all the time it sneered at me laughed at me waited for me in plain sight.  I wonder how many other gifts I miss during ordinary living.
The other good news is the lessons I learned from such a silly inconvenience.  As I wrote on the post: 
"The true lesson is knowing the depth of search, the urgency of my determination to find my Fitbit and the ever watching/seeking to hold it again – is minute compared to God's relentless pursuit of one of his sheep. His ongoing quest to be with me.  He endless hunt to be with you...The missing Fitbit is a reminder that I am incomplete with the Lord.  I have a missing piece in my heart only he provides…God always surprises me with lessons he tugs into the ordinary circumstances of living."
A bonus gift from this tiny misadventure was the many notes and comments, both in person and through the blog/emails asking if I ever found my missing Fitbit.  Your friendship warms my heart and makes me smile. Thank you!
Monthly Musings: Wise Words to Remember:
I lingered, prayed and absorbed both of the following quotes this month:
The boat I travel in is called Surrender. My two oars are instant forgiveness and gratitude—complete gratitude for the gift of life. I am thankful for the experience of this life, for the opportunity to dance. I get angry, I get mad, but as soon as I remind myself to put my oars in the water, I forgive.
Balbir Matbur
******
Did you ever imagine that what we call "vulnerability" might just be the key to ongoing growth? In my experience, healthily vulnerable people use every occasion to expand, change, and grow. Yet it is a risky position to live undefended, in a kind of constant openness to the other—because it means others could sometimes actually wound us. Indeed, vulnera comes from the Latin for "to wound." But only if we take this risk do we also allow the opposite possibility: the other might also gift us, free us, and even love us.
If and when we can live an honestly vulnerable life—the life we see mirrored in a God who is described as three persons perfectly handing themselves over, emptying themselves out, and then fully receiving what has been handed over—there will always be a centrifugal force flowing through, out, and beyond us. Then our spiritual life simply becomes "the imitation of God" (see Ephesians 5:1), as impossible as this sounds to our ordinary ears.
This, then, seems to be the work of the Spirit: to keep you vulnerable to life and love itself and to resist all that destroys the Life Flow. Notice that the major metaphors for the Spirit are always dynamic, energetic, and moving: elusive wind, descending dove, falling fire, and flowing water. Spirit-led people never stop growing and changing and recognizing the new moment of opportunity. How strange to think that so much of religion became worship of the status quo and a neurotic fear of failure. It does make sense, though, when we consider that the ego hates and fears change and failure.
What, then, is the path to holiness? It's the same as the path to wholeness. And we are never "there" yet. We are always just in the river. Don't try to push the river or make the river happen; it is already happening, and you cannot stop it. All you can do is recognize it, enjoy it, and ever more fully allow it to carry you.
Richard Rohr
Monthly Musings: Good Reads:
When Love Arrives – many of you know I don't read much fiction but my good friend Johnnie Alexander is changing my reading habits.  I love her newest book about Dani and Brett and how their paths crossed. I read this book by Johnnie a long time ago as it was being birthed from an idea into a full story, so holding its completed version now is like watching your child walk across that graduation stage. Thanks Johnnie for enriching my world with your words.
The Way of Silence – by Brother David Steindl-Rast has fast become a go to book for me about deep listening. In our noisy world the practice of silence too often is forgotten.  This book will help you rediscover or discover its power and necessity in our lives.
Women Heroes of the American Revolution – 20 stories of Espionage, Sabotage, Defiance and Rescue by Susan Casey.  I found this book on our recent trip to Williamsburg, Virginia and was delighted to find one of my ancestor's stories featured as one of the 20 women.  Do you know about Betty Zane?  She dodged Indian arrows in her dash outside of Ft Henry to get much needed ammunition and her courage saved the fort. I can't wait to read this story aloud to my grandkids so they too learn something about their heritage.
Uninvited – Living Loved When You Feel Less Than, Left out, and Lonely by Lysa Terkeurst.  Just started this book by an author who is a favorite of the young adult small group I facilitate. Her writings remind me once again the I am a beloved child of God and will never be uninvited from his presence.
Terrific Tools and Tips
I am laughing because both of this month's finds are linked to breakfast food.
And how about a coffee brewing alarm clock?

Website/Article (s) of the Month:
Did you know your brain had a delete button to make it stronger?  Interesting article to read. 

And please take a moment to check out these unusual libraries from around the globe.

I compiled my Monthly Musings outline plus additional information in a book, a two-year journal that is available on Amazon. I don't want to lose the loose sheets of paper and think having it in a book form will make it more of a keepsake. Would love to have you order one and leave a review!
If you want the free Monthly Musing download sheet, just click this button.
Click here to request your Monthly Musings Printable
What did you learn in September? Please share – I would love to hear how you are growing and thriving.  I sure appreciate all your comments and would love to have more of you join the conversation.  What are you noticing/learning this past month?