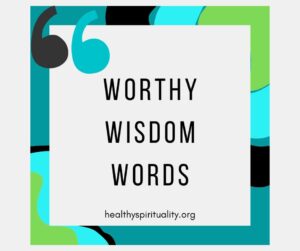 Read any good wisdom words lately?
As mentioned last week I recently attended a silent retreat. I listened deeply to God but also found thoughtful guidance from the written words from other "lamplighters."  I thought I would share some of these quotes with you today hoping they bring light to your spiritual journey too.  I know these words opened my heart to God's love and shaping.
Henri Nouwen continues to profoundly impact me this year. I prayed and pondered and journaled these words especially last week. How am I to let myself be loved by God? WOW!
"For most of my life I have struggled to find God, to know God, to love God. I have tried hard to follow the guidelines of the spiritual life—pray always, work for others, read the Scriptures—and to avoid the many temptations to dissipate myself. I have failed many times but always tried again, even when I was close to despair.

"Now I wonder whether I have sufficiently realized that during all this time God has been trying to find me, to know me, and to love me. The question is not "How am I to find God?" but "How am I to let myself be found by him?" The question is not "How am I to know God?" but "How am I to let myself be known by God?" And, finally, the question is not "How am I to love God?" but "How am I to let myself be loved by God?" God is looking into the distance for me, trying to find me, and longing to bring me home."
Here are few others that brighten my day on retreat:
"Let your light shine. Walk your talk. God didn't give your light only to sit on it."  Sister Thea Bowman (A new lamplighter for me!)
"Only the palette of the divine Painter can give me the colors I need to describe the wonders of my soul." Hildegard of Bingen
"If human beings ask no questions, the Holy Spirit gives no answer."  Hildegard of Bingen
"Maybe I am not making big changes in the world, but if I somehow helped or encouraged someone along the journey, then I have done what I am called to do."  Sister Thea Bowman
"If you are what you were meant to be, you will set the world on fire." Catherine of Sienna
"​Fear is a wonderful teacher but a terrible CEO. If you ignore its lessons, you'll never know which dragons need to be slain. If you ask it to be the boss though it will keep your life small because all it can see are dragons. Learn from fear but don't let it lead." Jon Acuff
Writing these words, rereading them this morning brings me once again closer to God – to feel his love and hear his lessons. May the wisdom of God and others companions guide your way too.
What words of wisdom have formed you lately?